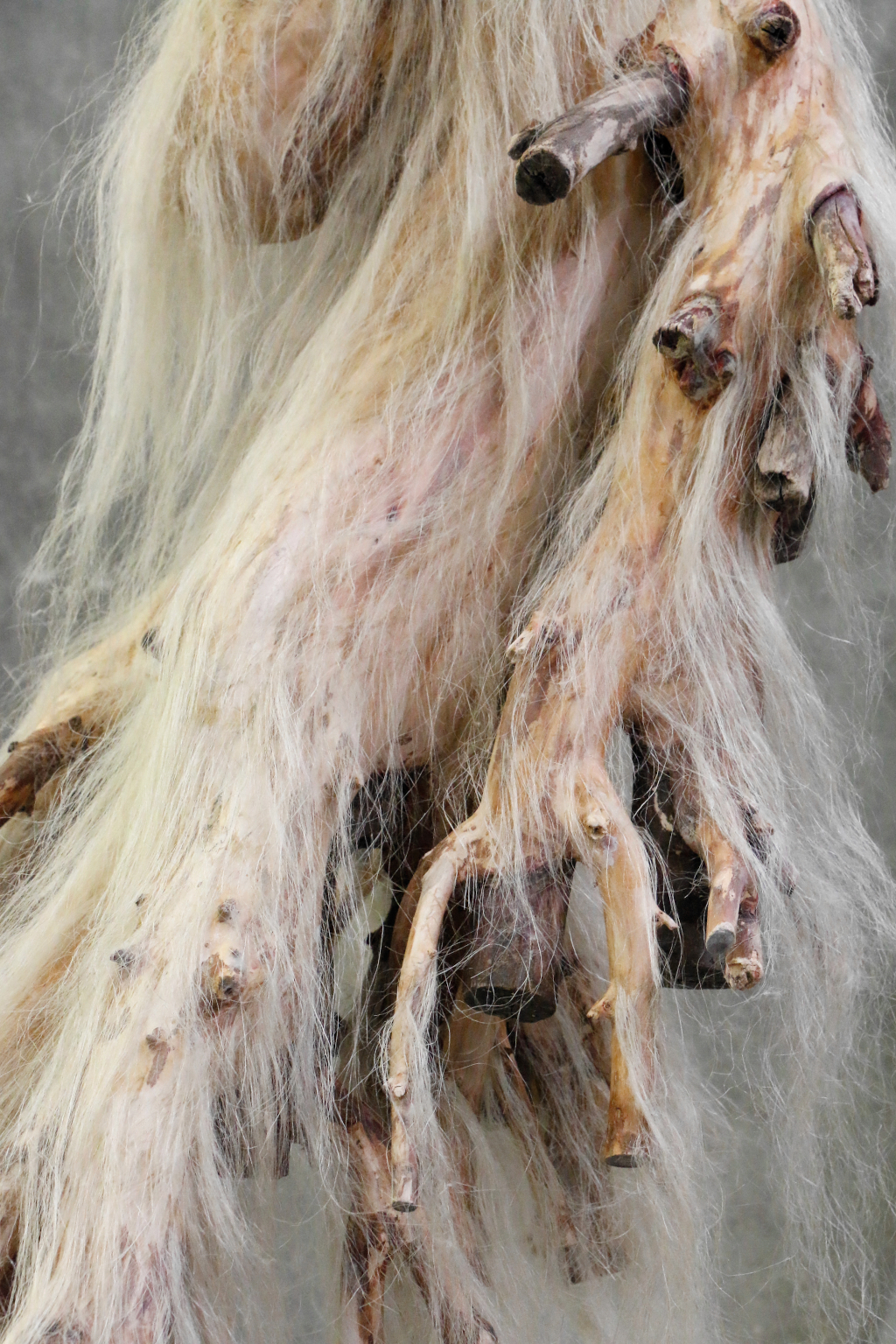 Yksityiskohta teoksesta Waiting Room 2019–2020.
A detail of Waiting Room 2019–2020.

fannyvarjo(a)gmail.com
https://www.instagram.com/fannyvarjo/
https://fannyvarjo.wordpress.com/


Työskentelen pääosin kuvanveiston ja installaatioiden parissa. Taiteellinen työskentelyni on usein materiaalilähtöistä. Yhdistelen jännitteen luomiseksi erilaisia materiaaleja lempeästi osaksi teosta. Pidän kiehtovana ihmiskehon lihallisuuden ja luonnon elementtien välisiä yhtäläisyyksiä. Veistos muuttuu keholliseksi, kun sen pintojen poimut assosioituvat inhimilliseen ihoon tai sen pintaa pukee karva. Tällainen ruumiillisuus luo ajatuksia vieraudesta, joka usein toistuu teoksieni teemana vallan sekä luonnon ja ihmisen välisen jännitteen lisäksi. Olen kiinnostunut siitä, kuinka havainnoimme ja hallitsemme ympäristöä ja miten näemme itsemme ja oman ruumiillisuutemme suhteessa siihen.


/


I work mainly with sculptures and installations. Materials are usually the starting point in my work. I combine different materials on the sculpture seeking for some tension. It is fascinating to find similarities between the versatile corporeality of the human body and the diversity of natural elements. The sculpture becomes bodily when the wrinkled surfaces of the wood associate strongly with human skin or its surface is covered with hair. Such corporeality creates thoughts of alienation, which can be seen as the theme of my works, as well as power and the tension between nature and human being. I find it interesting how we observe and control the environment and how we see ourselves in relation to it.